Today IFK Göteborg presented the Estonian national player Erik Sorga. We at BaraBen.com reached out to the Estonian sports journalist Ott Järvela, who writes for Soccernet.ee, to get a better picture of Erik Sorga.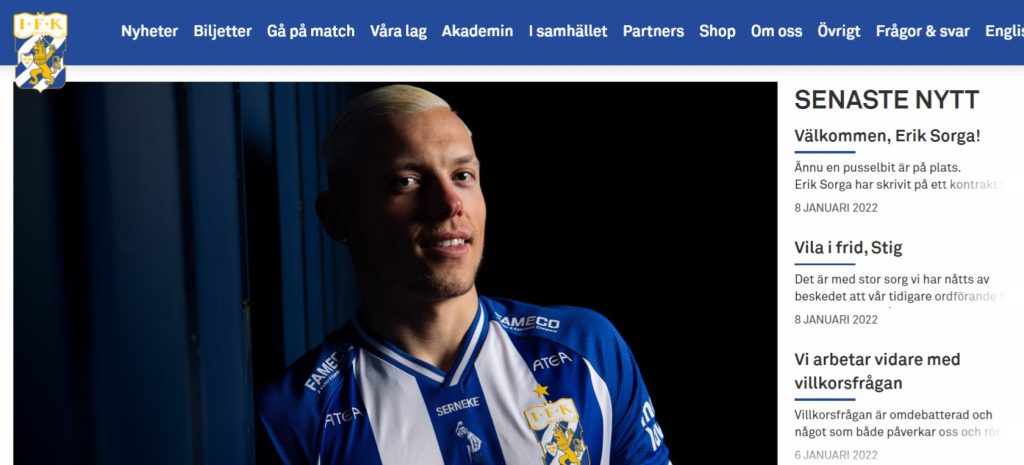 How would you describe Erik as a football player?
A proper striker. He made a name for himself in Estonian Premium liiga in 2019 by scoring loads of goals, mostly by lethal finishing. During past two years his game has improved in the areas outside the penalty box (I say that on the basis of national team matches, because his minutes in DC United and Venlo were modest). One thing I can say for sure on the basis of interviews I have done with him during past years: Erik really appreciates a chance to be a professional footballer, he doesn't take it for granted and loves to work hard. In the beginning of 2019 he was a nobody, he started the season as Flora's second striker, but relentlessness helped him to gain a starting spot.
Erik was successful in the Estonian league, why do you think he has not really succeeded abroad?
I could point out diferent circumstances, but at the end they are only justifications. Football is a ruthless business – one has to break thrugh even then when the circumstances are against you. Erik did not succeed with that in DC United or Venlo. Estonian football community hopes he fares better in Göteborg. He is a very important player for Estonian football.
How do you rank the level of the Estonian league?
Flora was the first ever Estonian club to reach group stage of an European competition in autumn 2021 and that was a great achievement that shows the league is improving and hopefully not anymore among the worst in Europe. I think Flora, Levadia and Paide (TOP3) have established a good work process, but as we are a small country then the average level will always remain an issue. Premium liiga is improving. I hope a little faster than its rivals so in a few years it could establish itself among TOP40 in UEFA coefficient table (currently #45). It would be a good place to be.
What do you think about his chances of success in the Swedish Allsvenskan?
Time will tell. I hope for the best, but it is a strong league and nothing can be taken for granted. Erik is not afraid of physically intensive football, I think it can help him.
How do the Estonian supporters and experts view Erik? What do they believe / hope about his future career and progress?
He has potential to have a good career in Europe. But there are lots of footballers with good potential. Can he transform that potential into sporting success? That is a different question. Sorga is not afraid of work, his attitude is professional. But striker is a tricky position where you also need some luck because if goals don't come, one will find himself on the bench quite soon. For example, if Sorga would establish himself in Allsvenskan and would play there for the next 5-6 years, it would be seen as a big success in Estonia.
How close would you say that it is for Erik to become a regular starting player for the national team?
He is very close. Rauno Sappinen, who transferred from Flora to Piast Gliwice (Poland) in December, is nr1 striker. Sorga and Henri Anier are fighting for the second spot in the starting lineup. So far, Anier has had the edge, but Sorga has moved closer and closer to him.
In Sweden we have a long tradition of looking to Britain for our football inspiration. What would you say inspires Estonian football?
During the Soviet occupation, the only window to European football Estonia had, was English football shown every Saturday on Finnish terrestial television. Its signal reached the northern part of Estonia and in addition to football it was our informational and cultural window to the West (in addition to Voice of America radio station). So British football has already since the 70s been The Big Thing in Estonia. It is the big aim and when Mart Poom and Ragnar Klavan played there, it was seen as mission accomplished for them personally and for Estonian football collectively. But it does not mean that smaller achievements are not appreciated. Estonia is a small football country and every success achieved by our footballers on an international stage is celebrated. Every goal scored by an Estonian footballer playing abroad is a news-worthy item not only in Estonian football media, but also sports media. Our local football has its limits, it is obvious. So every success abroad by our men and women works as an inspiration for Estonian football.
Anything else you could tell us about Erik Sorga that would be interesting to know for the fans of IFK Göteborg?
Erik is very good friends with Vladislav Kreida who played in Helsingborg in 2021 (on loan from Flora). Before joining Flora as young teenagers in 2016, they were both players of JK Legion Tallinn.